Share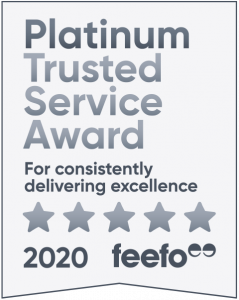 Following on from their customer service success in recent years, Infinity Group have been awarded the Platinum Trusted Service Award direct from Feefo which demonstrates consistent customer service excellence. The Platinum Trusted Service Award is a highly-valued badge of approval that very few businesses achieve, as it's only awarded to businesses who have achieved the Gold standard for three consecutive years.
Nikki Laker – Chief Marketing Officer commented:
"The voice of the customer is of utmost importance, we listen, we learn and continue to improve. Infinity Group are delighted to be awarded the Platinum Trusted Service Award in 2020 after three years of consistently high customer service performance. It recognises our commitment for customer service excellence and rewards our Service Desk team for receiving high levels of customer feedback direct from our customers. There are not many other IT Support Companies in London who have consistently achieved the Gold standard and then been awarded Platinum, which is no easy task! This achievement certainly sets us apart from the other players in the market . "
Congratulating Infinity Group on winning this year's award, Steph Heasman, Director of Customer Success at Feefo, commented: "The Trusted Service award has always been about recognising companies that go way beyond the norm in customer experience and generate great feedback from happy customers, well done to the team at Infinity Group for achieving the Platinum this year".
-Ends-
About Infinity Group
Infinity Group are one of London's leading Managed Service Providers centrally based at London Bridge. They provide a wide range of IT Transformation services including, Cloud Consultancy, IT Infrastructure Consultancy, Outsourced IT Support, Digital Transformation and Microsoft Dynamics Consultancy.
About Feefo
Feefo is a disruptive global technology company empowering brands to make smarter decisions and improve consumer experiences by leveraging the full potential of real customer reviews.
Feefo's cutting-edge review platform is trusted by more than 3,500 brands including Next, Vauxhall, Iceland, Mazda, Expedia, Michael Page and JCB, who rely on it to supply smart insights that transform their ability to market, sell and build more rewarding relationships with customers.
A trusted partner of Google, Feefo's technology and consultancy team possesses unique expertise and business insight, enabling brands to employ cutting-edge innovation that optimises the delivery of digital marketing and advertising.
Please visit: www.feefo.com
Source: https://thenewsfront.com/infinity-group-wins-feefo-platinum-trusted-service-award-2020/
Since 2002, Infinity Group have provided our clients with the complete business solution which includes IT Support, Digital Transformation, network Connectivity and IT Consultancy Services. We take care of everything for you, helping to keep your business running efficiently using the latest technology. As one of the…
3rd Floor, The News Building, Shard Quarter, 3 London Bridge
London
SE1 9SG
United Kingdom
0345 450 4600
https://www.infinitygroup.co.uk/it-support-in-london/